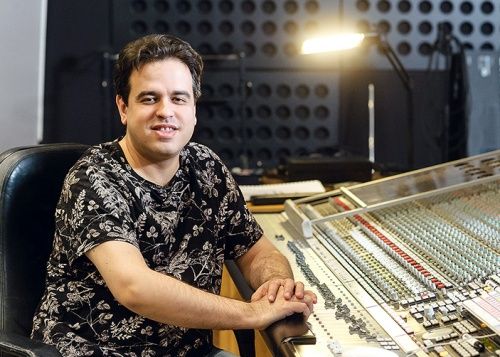 Andrey Levin
Profile: Recording and Mixing
Andrey started his career at Mosfilm Music Studios in 1999. For many years he has been recording music of various genres: symphonic music, film scores, musicals, jazz, pop, rock. He gives lectures on sound engineering at the Moscow Institute of Contemporary Art.
Andrey Levin has worked with many composers and musicians, including Gennady Gladkov, Andrey Semenov, Yuriy Poteyenko, Eduard Artemiev, Alexey Rybnikov, Alexey Aygi, Leonid Fyodorov, Aleksey Kozlov, Polad Bülbüloğlu, Yuri Bashmet, Igor Butman, Anna Koroleva, Alexander Rostotzky. Anna Koroleva's album Air of Time, engineered by Andrey Levin, was nominated for a Grammy Award.
Among Andrey's latest works are film scores for Karen Shakhnazarov's Anna Karenina and Raoul Peck's I Am Not Your Negro, Andrey Semenov's and Gennady Gladkov's operas, On the Sun album by rock band Auktyon, jazz albums Open Strings by LRK Trio and Luminescence by Amber Sept. Raoul Peck's film I Am Not Your Negro was nominated for an Academy Award.
Andrey has recorded music for many stage plays and musicals, including Beauty and the Beast, Chicago, The Little Mermaid, Sleeping Beauty, Zorro. He has cooperated with Russian pop musicians and rock bands, including Bi-2, Gorod 312, Zemfira. Since 2011 he has engineered music for the Children's New Year party at the Kremlin.
Andrey recorded José Carreras voice for the 2014 Sochi Olympic Winter Games closing ceremony.
Andrey has worked on international projects in cooperation with famous composers and musicians, including Montserrat Caballe, Michel Legrand, Terry Plumeri, Ahmad Pejman, Randy Brecker, Tecora Rogers, Rich Goods, and teamed with American and European producers and sound-engineers, such as Haydn Bendall, Peter Cobbin, Andrew Dudman, Tony Platt, Michael Brammann, Goffredo Gibellini, Fabio Venturi.