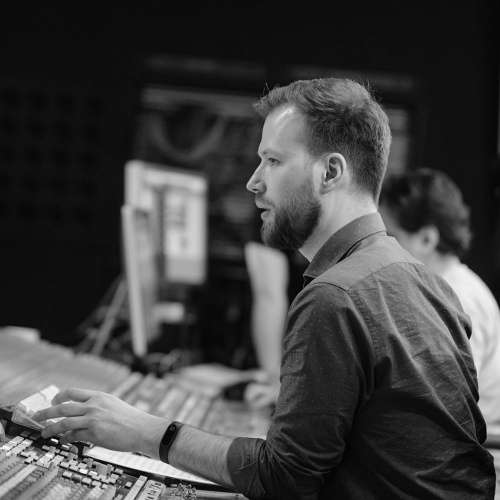 Sergey Kruglov
Recording and Mixing
Sergey joined Mosfilm Studios in 2015 right after he graduated from the Institute of Contemporary Art with a specialist degree in Music Production. While a student, Sergey became immersed in the professional and demanding environment of one of Russia's most prominent classical music broadcast companies - Russian State TV and Radio Music Center ("Orpheus" radio station). During that time, he took an active part in location recording and mixing of a vast amount of classical music concerts in various halls around Moscow. Since August 2019 Sergey is a chief specialist of Mosfilm Music Studios.
Sergey took on an engineering role for the recordings of the Rachmaninoff 140th Anniversary festival (2013), Music of Rimsky-Korsakov festival (2014) and IV Moscow Christmas Festival of Sacred Music (2014) in the Moscow International Performing Arts Center, Baroque Masterpieces festival (2014) at Arkhangelskoe Palace and many other performances featuring famous orchestras (Music Viva Orchestra, National Philharmonic Orchestra of Russia, Orpheus Radio Symphony Orchestra, Russian Philharmonic Orchestra, State Academic Symphony Orchestra "Evgeny Svetlanov") and artists (Angela Brown, Vazgen Vartanyan, Hibla Gerzmava, Philippe Jaroussky, Ignat Solzhenitsyn, Julia Lezhneva, Kevin Dias).
During his time at Mosfilm Sergey assisted on several movie soundtrack recording sessions including Scary Stories To Tell in the Dark, Der Junge Karl Marx, The Truth (La Verite), Kola Superdeep, Saving Leningrad, Decision: Liquidation, Frontier, The Last Warrior, The Road to Calvary, Cold Tango, Anna Karenina. Vronsky's Story, Tikhiy Don. Sergey also assisted during the recording of the On the Sun album by the rock band Auktyon and the Lighthouse album by Iamthemorning. As a sound engineer, he has worked with Alexey Aigui, Evgeny Grinko, Peter Nalitch, the Symphony Orchestra of the Ministry of Defence of the Russian Federation, Valentina Lisitsa, Konstantin Dorokhov, iamthemorning, VAN Quartet.